Placering:
Rævevej
.
Opstillet  år:
2020.
På initiativ af:
Grenaa Marineforening.
Tekst:
Nedkastningsplads
Valdemar
26.11.1944 / 2.12.1944
Materiale:
Granit.
Finansieret af :
Grenaa Marineforening.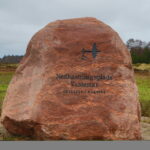 Mindesmærke for nedkastningsplads kodenavn "VALDEMAR"
Grenaa Marineforening har opsat dette mindesmærke til erindring om de lokale frihedskæmpere, der på Grenaa Hede under 2. Verdenskrig modtog våben og sprængstoffer fra England med stor risiko for deres liv og helbred. Tankerne går også til de brave engelske piloter og besætninger, der med elendigt navigationsudstyr, et totalt mørkelagt land og tysk beskydning var i stand til at finde nedkastningspladserne og finde hjem igen.
Droppingzone codename "VALDEMAR"
Grenaa Marine Association has raised this memorial in memory of the members of the local resistance groups who received weapons and explosives from England on Grenaa Heath during the war, with great risk to their lives and health. Our thoughts also go to the brave English pilots and crews who with miserable navigation equipment, a darkened country and German shelling were able to find the dropping sites and their way home again.
Drop-Bereich Codename "VALDEMAR"
Die Grenaa Marinen Vereinigung hat das Denkmal zum Gedenken an die örtlichen Freiheitskämpfer errichtet, die während des Krieges Waffen und Sprengstoff aus England in der Grenaa-Heide mit großem Risiko für ihr Leben und ihre Gesundheit erhalten haben. Für uns gehen die Gedanken auch an die guten englischen Piloten und Besatzungen, die mit lausigen Navigationsausrüstung, ein dunkles Land und deutscher Beschuss die Drop-Bereich finden konnten und wieder nach Hause fliegen.